When it comes to athletic allegiances, hate is a malleable thing. With players bouncing around from team to team and entire organizations being overhauled almost overnight, this season's arch-nemesis could be next season's afterthought. Just about any modern sports fan can relate to the heartbreak of his favorite team signing a player he positively loathes. I went through a nasty bout of that during Antoine "Babyhead" Walker's thankfully brief tenure with the Timberwolves, which was nothing compared to the deep, searing stomach pains I now feel every time a purple number four jersey crosses my field of vision.
As difficult as it is to process that transition from Satan to savior, the reverse can be just as tricky. Watching a beloved player take sides with a rival is always bittersweet, but it takes many forms. Here in Minnesota, we tend to be pretty understanding, so long as the parting was amicable. Torii Hunter still gets standing ovations when the Angels come to town, and Kevin Garnett Celtics jerseys are as common a sight as Timberwolves gear on Twin Cities ball courts. Do us dirt, though, and you're asking for a rough homecoming. One of my favorite Metrodome memories came eight years ago, when the Yankees came to town on Dollar Hot Dog Day. It took direct admonishment from the great Tom Kelly to stem the steady torrent of pork byproducts launched at Chuck Knoblauch's traitorous head by the left field faithful.
But there's one defector who defies the rules and splits the allegiances. I speak, of course, of A.J. Pierzynski. Sure, he draws plenty of boos when he steps up to the plate in the Metrodome, just as he does in every stadium outside of The Cell, but the catcalls here are nowhere near as lusty as those heard at, say, Angel Stadium or Wrigley Field. Even his infamous 2007 attempted spiking of Justin Morneau didn't earn him the hatred one might expect. In fact, scanning the fan jerseys at any Twins home game will still reveal a few number 26s mixed in with all the 7s and 33s.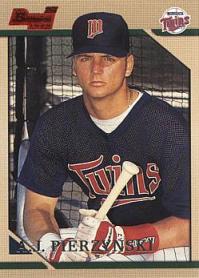 It's kind of odd that one of the most hated players in the league would be such an ambivalent figure in Minnesota. Even when he was a Twin, A.J. never exactly fit the mold. Perhaps I'm just biased, but the Twins have always struck me as a "nice guy" team, and A.J. has always been an unabashed, unapologetic jerk.
And that's why I like him. Compare A.J. to a dude like A-Rod. The latter would seem to be a total dick by just about anyone's standards, but he presents himself as a misunderstood martyr of the media. A.J., on the other hand, owns up to and even embraces his dickery. He knows he's despised by his opponents – and likely by a number of his teammates as well – and he takes that and runs with it. Even his biggest detractors can't claim that the man doesn't play his heart out every time he takes the field. And it's not just the attitude that makes him an endless font of frustration – he's also a clutch performer who can beat you in ways you'd never even imagined. Come to think of it, maybe he was more at home with the Piranhas than I'd realized.
Then, of course, we have the circumstances of A.J.'s departure. Jerk though he may be, A.J. didn't go bashing Minnesota in the press like certain Starburys I could mention. He took his trade like a gentleman, won us an All-Star closer and two should-have-been star starters and, most importantly, cleared the path for our favorite Local Boy Made Transcendent.
When the Twins and Sox take the field for this week's potentially pivotal series, I ask Twins fans to turn their eyes to the Visitors' dugout and observe the sour-faced, bleached-blonde sparkplug donning the chest protector for the other guys. Then take a good, long look at our boy Joe. Drink in his towering frame, his unwavering arm, his clean-cut good looks, his .400-flirting batter's eye. When we have that much to love, why waste any of our energy on hate?
Or is that asking too much? Oh, all right. You have my blessing to go ahead and hate Paul Konerko.
——
Ira Brooker is an award-winning freelance writer and editor whose work has appeared in Make, The Drama, and Where Y'At among others. He wishes no specific harm towards Chicago sports, but certainly wouldn't mind some general failure on their part. Visit him online or in beautiful St. Paul, MN.