Allow me to introduce a baseball team. A team with solid pitching and a lineup that has the potential to score a lot of runs. A team with a gigantic he–beast designed to close out games and inspire fear deep inside hitter's hearts. A team that is often overshadowed by its division rivals. A team that spends money, adds a few key pieces in the off-season yet can't quite draw attention from the "big guns" in the division with their "infinitely deep pockets" and "ability to fleece the Marlins." A team that won its division in 1993. A team that decided to build a symmetrical, concrete toilet-bowl stadium two years before everyone else realized that building a funky, baseball-specific park was a lot more fun. A team picked to finished third in its division by just about everyone.
The similarities between the Toronto Blue Jays and the Chicago White Sox are numerous, which makes sense considering Chicago and Toronto are basically the same city. In fact, if we apply a quick 90 degree rotation and disregard the Great Lake in question. . .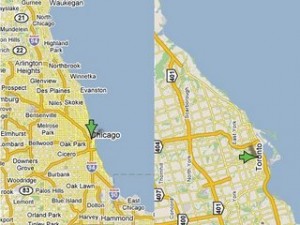 But as far as this baseball season goes, the similarities end there. The White Sox have gotten off to a quick start, jumping on the Tigers' terrible April and spending some time atop the division. The Jays, not so much.
Blue Jays fans and media types alike saw this as the year the Jays leapfrog the Yankees and/or the Red Sox. The Yankees are prime for the taking now, their mix of too young and too old just not working. But the Jays haven't been able to take advantage.
Pretty much everything that could have gone wrong has. Logically and financially sound personnel moves such as cutting loose not-quite-starting left-fielder Reed Johnson have backfired. I believe he ended up in a certain Midwestern city, making web gems and knocking around right-handed pitching unlike ever before.
On the field, nothing has gone right. A suicidal record in one run games (2-8), averages with runners in scoring position best viewed with a magnifying glass, and a batting order that on most nights seems picked out of a hat. The lowest slugging percentage in the American League, an arbitrary stat that I highlight simply because it points out that they don't hit many home runs, and they hit even fewer doubles. A rotation that features four men with more more quality starts than wins.
At this rate, the Jays would be lucky to finish third. As I said above, the vast majority of pundits and bloggers picked the Jays to finish third, just like the Sox. But do you know what everyone knows? Jack shit. Just as many White Sox bloggers and assorted South Siders told themselves, "Fuck those Tigers. Look at the size of those fat bastards. Hair farmers don't win shit." We keep a similar level of faith here in Torontopia.
The pitching has been as advertised, better even. A little luck and some better swings, and the wins will come. It is very somewhat I don't even know anymore they just keep losing likely that they will come at the expense of your Chicago White Sox.
Pitching Matchups
Mark Buehrle will get a front row seat to the "Best Pitcher You've Never Heard Of" show when he faces Shawn Marcum in the opener. Jon Danks and Jesse Litsch will try to keep their teams within a touchdown of each other on Saturday. Roy Halladay will make his next start on Sunday against everyone's favorite Cuban of dubious age. The Roy Halladay that has four consecutive complete games, more than every other team in baseball. That guy. He's pretty good. Javier Vasquez meets Dustin McGowan in a potential duel in the series closer Monday.
White Sox that I hope takes the weekend off
Nick Swisher. He beats the Blue Jays up and down. He's hit 5 home runs in his career at the dome. He's got brutal facial hair. He lent his old hairstyle to Anton Chigurh. Please be gentle Mr. Swisher.
In conclusion, this has been a most depressing exercise. I'd like to thank everyone at 35th Street Review for the cathartic opportunity. I'd wish the Sox luck this season, but I wouldn't mean it.
——
Lloyd the Barber Moseby can be found at Ghostrunner on First when he isn't trying to sell HGH to David Eckstein.