PREGAME
White Sox/Twins has to be one of the most interesting – although admittedly boring – rivalries in baseball. The two are very rarely good at the same time, both are generally ignored outside the AL Central and, more importantly, there's a huge disparity in the kind of hatred we two sets of fans have for the others' team. Twins fans tend to decry the Sox as the bully of the division, freely throwing around their big-city money to appease an unjustifiably arrogant and infamously hostile South Side fanbase. Sox fans, on the other hand, see the Twins as the weasely little organization whose only goal is to shame the Southsiders through bush-league tactics and somehow coaxing Cy Young-caliber performances out of nobody pitchers when they face the Good Guys.
In truth, these are both remarkably flawed and narrow views of each other. Yes, the Twins are annoying in all their fundamentally sound wholesomeness, but their four division titles in the past six seasons suggest that maybe, just maybe, they're not only beating up on the Sox. Still, for all their well-executed bunts and situational hitting, the Twins have exactly as many World Series titles to their credit as the Sox. And yet, they do it all on a comparatively non-existent budget even though Twins owner Carl Pohlad is the 107th-richest person in America. Perhaps it is this efficiency that enrages us so, as though logic would suggest the way to build a team is to throw money at the gaping holes in player development and overhype a core of newly-acquired, achingly average players.
That's the same Carl Pohlad, by the way, who conned the good people of Minnesota into building him a new stadium under threat of relocating or even contracting the team if they didn't comply.
RAIN DELAY
The darkness arrives over Sox Park, and we are informed there will be a delay in the start of the game to let the storms through. Twenty-five minutes, or so they estimate.
You can tell a lot about a team by the jerseys its fans wear. Around Comiskey you'll see the expected attire – Thomas, Ventura, Fisk, Konerko – but look closer and you'll notice just how quickly the Sox faithful have embraced new arrival Nick Swisher. Young men sporting the "Dirty 30" t-shirts; young women rocking the "Swisher's Sweeties" tops; little kids in Swisher jersey t's. I'm not sure anyone has ever become a fan favorite around here so quickly, but I'm also not sure people ever went this crazy for a former Sox killer who hit .305 against the Good Guys and .200 for them.
RAIN DELAY, HOUR TWO
Office Max has set up a little stand somewhere around section 536 offering up free poster board and markers for fans to make their own little signs. Is this really a good idea? Have they forgotten who goes to Sox games on Wednesday nights?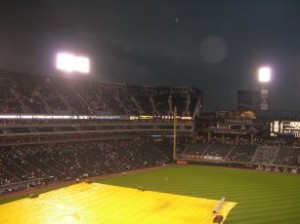 TOP 1
After 104 rain-delayed minutes, Carlos Gomez sends the third pitch of the game into the left-field stands. Things can only get better from here.
BOTTOM 1
Livan Hernandez' half-brother is none other than South Side legend Orlando 'El Duque' Hernandez. The two seem to share whatever the big-game gene is, but you also have to wonder if they also share the "no one knows their real age" gene.
Sox 0 / Twins 1
TOP 2
It's 45 degrees out right now, with a vicious wind blowing around the upper deck. My fellow lunatics diehards and I are making fortresses in our seats out of umbrellas, towels, and purpose-purchased sweatshirts. Or, in the case of the two shirtless guys with the wraparound barbed wire tattoos on their arms, lots of beer.
BOTTOM 2
The Twins have a third baseman named Matt Tolbert, which reminds me of a Tolbert I went to high school with. I didn't know him all that well, but for some reason we were in the same gym class every year until I was old enough to elect the co-ed gym class instead of the gym class that actually demanded anything of anyone. The Tolbert from my school was obsessed with basketball, to the point that everything was in terms of what would happen if we were playing basketball instead of whatever we were actually playing. Once when we were playing ultimate frisbee, another kid made an arguably aggressive block by way of a jumping collision. Tolbert just laughed, telling the kid that "You can't do that in the NBA, baby. Give your ass a T, bitch!" This would be a running joke between my friends and I for years.
"Dude," someone would say, "I lost your Nine Inch Nails CD."
"Can't lose my CD in the NBA, baby!" someone else would answer. "Give your ass a T!"
Last I heard, high school Tolbert was playing football at Florida State. In the here and now, the Twins' Tolbert just lined out to Paul Konerko.
Sox 0 / Twins 1
TOP 3
Five rows down are a group of Twins fans wearing (from left to right) the following jerseys: Johan Santana, Michael Cuddyer, Joe Mauer, Santana again, Kent Hrbek. I'm genetically obliged to hate them for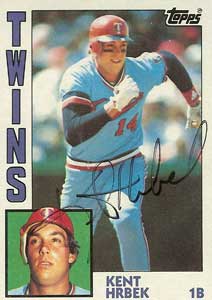 liking the Twins, but I want to tell the guy on the right his choice of attire is awesome. And to stop taunting the Sox fans around them because this isn't Minneapolis and there's no such thing as good-natured ribbing around here. We know our team sucks, and we also know how to throw an order of nachos across section 518 with remarkable accuracy.
BOTTOM 3
The New Math: Eight Livan Hernandez pitches = three White Sox outs. Awful.
Sox 0 / Twins 1
TOP 4
In 1909, Walter "Big Train" Johnson threw 296.3 innings for the Twins (then the Washington Senators) with a WHIP of 1.117 and an ERA of 2.22. His won-loss record in 41 outings was 13-25, while his team as a whole went 42-110 – a .276 winning percentage. For the record, that abysmal ratio is higher than every single White Sox batting average this year except for A.J. Pierzynski's (.299).
BOTTOM 4
They don't show the Sox' batting averages on the center field display anymore. My guess is they realized how demoralizing it must be for Jim Thome to look up and see he's hitting .212.
Sox 0 / Twins 1
TOP 5
For anyone wondering, hot chocolates at Comiskey are $6.50, which is only a quarter less than beers. To warm the stomach, or to warm the soul? That is the eternal question.
BOTTOM 5
On November 14, 2003, just after what was easily his best season, the Twins traded catcher A.J. Pierzynski to the San Francisco Giants for a potential superstar of a left-handed pitcher, a solid mid-rotation right-hander, and one of the best closers in the game today. On May 7, 2008, Pierzynski was on an 0-for-12 skid with a batting average that had fallen 40 points in the previous two weeks. Twins fans boo him; Sox fans worship him. Some things I will never understand.
Sox 0 / Twins 2
TOP 6
Craig Monroe led off this inning, and Craig Monroe will lead off the next inning. Jesus.
BOTTOM 6
Orlando Cabrera is hitting .209, but the Jon Garland the Sox traded for him has a 5.08 ERA. So, you know, everyone looks pretty bad where that deal is concerned.
Sox 0 / Twins 7
TOP 7
There's a big crossover promotion this year between the Blackhawks and the Sox, something about
home runs on ice or Nick Swisher wearing a Hawks sweater. Chicago hasn't been much of a hockey town ever since Bill Wirtz decided it would be a smart move to get rid of three future hall of fame players and stop showing games on television, but with the passing of the torch to his son Rocky, things suddenly look bright. They've got some promising young players and a new organizational philosophy of actually promoting the team and at least making an effort to put a winner on the ice. We're a fickle lot, us Sox fans, but if the team's not a total embarrassment you might just start seeing these shirtless armband guys at the United Center in the winter. Loser season never has to end!
STRETCH
Fact: Harry Caray first started leading crowds in the sing-along of "Take Me Out to the Ball Game" while employed by the Chicago White Sox.
BOTTOM 7
Livan Hernandez was unemployed until the Twins signed him just before Opening Day. By the time this is all over, I will have exactly as many hits off of him tonight as five Sox batters do.
Sox 0 / Twins 7
TOP 8
Carlos Quentin had quite the collegiate playing career, finishing with a .350 average, 170 RBI and 26 home runs in 199 games over three seasons. A three-time All PAC-10 honoree and finalist for the Golden Spikes, Quentin was also the 2001 PAC-10 freshman of the year. This is all well and good, but one question remains: WHAT WAS HIS MAJOR? But seriously, kids, stay in school. . . unless the Diamondbacks draft you in the second round of the 2003 amateur draft.
BOTTOM 8
As the park starts to empty, you can hear almost everything people are yelling at no one in particular:
"Put 'em on the floor!" – Twins fan in 335
"You guys stink!" – Sox fan on lower level
"Throw in the towel!" – Sox fan around 530
"Go Cubs!" – Kirby Puckett jersey-clad Twins fan in 528 just before getting a souvenir cup full of something the color of Pepsi thrown at him
Sox 0 / Twins 7
TOP 9
After giving up a five-spot on twenty pitches, Ehren Wassermann's ERA goes from 6.75 to 32.40 as the Twins bat around in one inning for the second time tonight. Carlos Gomez gets the single he needs to complete the cycle, and by the time Nick Masset comes out in relief of the relief pitcher, there are a combined 20 people left in all of the right field stands.
MID 9
A video on the Jumbotron shows highlights from years past while the wraparound LED displays all read "THIS IS WHITE SOX COUNTRY." One look at the mostly-empty stadium and the miserable news posted on the scoreboard and all I can think is "Wow, what a terrible country White Sox country is."
BOTTOM 9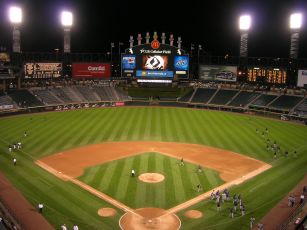 A guy at the top of my section is cheering Livan Hernandez. This seems normal, until you see the guy is wearing a Sox t-shirt and wants nothing more than for this all to please please please just end.
It's a good thing Jermaine Dye hit that home run to put the Sox on the board. 13-1 is still a pretty deep hole to crawl out of but, you know, 13-0 would have been really embarrassing.
Sox 1 / Twins 13
POSTGAME
Castoff Livan Hernandez throws a complete game while ace Mark Buehrle is brutally shelled. Enemy outfielder Carlos Gomez is begrudgingly cheered for hitting for the cycle while the home team is resoundingly booed off the field. The few of us left agree we've just seen possibly the worst game in the past decade, and together we curse our collective decision to bother coming out to the park tonight. The cold winds howl through the emptying concourse, everything is all wrong, and together we trudge back to wherever we came from, all too aware that the vacant upper deck on the South Side of Chicago can sometimes be the coldest place on earth.