If you really think about, there was no other way for the Joe Crede/White Sox tale to end than with #24 headed to the Twins. None.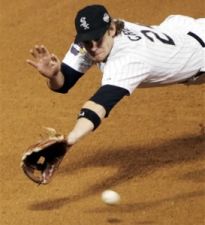 In the beginning, when Herbert Perry was simultaneously raking the hits and booting grounders, we heard talk of some prospect, some kid from Missouri who was supposed to be pretty good and could rival the Sox killer the Twins employed at the time. And while Herb and any of Jose Valentin, Tony Graffanino and Jose Valentin covered third, this kid rocked the minors and just didn't stop hitting, so with much anticipation the Sox brought him up full-time in 2003 and. . . meh.
Do you remember early-era Crede? We'd call him "scrappy" when we meant "inconsistent." We'd call him "clutch" when we really meant "the only guy on the team who can hit something besides a solo shot." But there were those moments, even though you hated him, where Crede made you believe.
And then, well, you know how the next two years went: spectacularly. The moon shots, the diving catches, the walk-offs, Pablo scoring from second, the grannies, the reconciliation, finally, that Robin was gone but another outstanding fielder with a flair for the dramatic would help us move on.
Once the back problems took over, once the hype about his replacement grew loud enough, once even Juan Uribe could become a suitable replacement, well, we all kind of knew where things were headed. The Sox' current full-timer couldn't cut it. Some kid was tearing up the minors and could play third, and just in time as the Twins pick up a third baseman who spent the last few years learning the ins and outs of the White Sox playbook.
As it begins, so it ends.