Voting season is upon us, and it's time for the annual trip up and down the ballot to find worthy candidates for baseball's greatest honor. Who will make the cut this year? Roberto Alomar? Edgar Martinez? Barry Larkin? Pat Hentgen? Todd Zeile?
Oh no, no, no, those names simply will not do. No, I see but one name on that list that screams "dominance," one that says "when you are talking about great baseball, you are talking about ME!"
But alas, I do not have a Hall of Fame vote; if I did, I would probably cast idiotic votes for fellow Sox bloggers-in-arms or something similarly stupid while frothing away here in the safety of my mom's basement. But it seems only right to take a stand in favor of a man who gave you, me, all of us a decade and some change to remember, one marked by utterly fantastic moments and a highlight reel that can stand up alongside the best of them. I speak, of course, of Robin Ventura.
To which some of you may ask: why Robin Ventura?
To which I will ask in return: why not Robin Ventura?
Robin Ventura instilled more fear into the hearts of American League pitchers than the two supposed best hitters of his day.
In 1998, Robin hit fifth, usually situated between Albert Belle or Frank Thomas in the cleanup spot and either of Greg Norton and Wil Cordero in the sixth spot, yet led the league in intentional walks with 15. Do you realize what that means? That means after facing either Belle and his 49 bombs or Frank and his 125 OPS+, American League pitchers were still scared out of their minds because do you know who was waiting on deck, licking his chops and ready to decimate the opposition? Robin Ventura was up to bat, that's who. And he was going to cut you.
Robin Ventura plays Hall of Fame defense, obviously.
In his career, Ventura won enough Gold Gloves to make a small army of Hall of Famers jealous—one more than Joe Morgan, two more than Nellie Fox, three more than Hank Aaron, four more than Wade Boggs, five more than Rickey Henderson, six more than Sandy Koufax, and an astonishing three times as many as Mickey Mantle and Carlton Fisk combined (and almost as many as Mark "Buehrle" Langston to boot). You want Hall of Fame-level hardware? Robin Ventura has Hall of Fame-level hardware. Because I once heard someone say five Gold Gloves was Hall-worthy. I forget who that was. Or who they were talking about. Some guy. Some guy who had fewer walks and fewer sacrifice hits than Robin Ventura, I might add.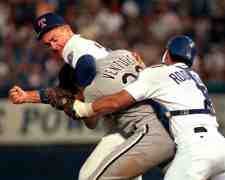 Robin Ventura will beat you up (or get beat up trying).
Robin Ventura once went after Nolan Ryan, famously getting wailed and tossed from the game in the process, thus making him the all-time leader in that category. You know how many times alleged Hall of Fame nominee Kevin Appier did that? None, that's how many.
Grand Single.
Enough said.
What are you gonna do, vote for Barry Larkin?
Come on, let's not turn this city's other other great number 23 into this year's Dante Bichette. Vote smartly; vote soundly; vote swiftly.
Vote Robin.