There's a fairly famous picture from the 2005 World Series. Paul Konerko, arm up, rounds first after hitting a first-pitch grand slam off of Chad Qualls. It was the seventh inning and put the Sox up 6-4 over the Astros, ultimately setting up the Scott Podsednik walk-off and sending the Good Guys on their way to winning it all.
To look at that picture is to smile, to cheer for arguably the best team any of us will see or watch or cheer for in our sports viewing lives. Like a wedding picture or a postcard from someplace you can't forget and can't wait to visit again.
I hate that picture.
Make no mistake, the image is – for lack of a better word – beautiful. Everything about it screams awesome, monuments to the exact reasons you and I and we watch this game and root for this team. We all remember where we were for that moment, or for Pods' shot to right-center, or A.J.'s dropped third strike, or the Four Horsemen going nine apiece, or Bobby Jenks torching the Astros with a triple-digit flamethrower, or El Duque, or Geoff Blum, or everything great that went down on the South Side that autumn.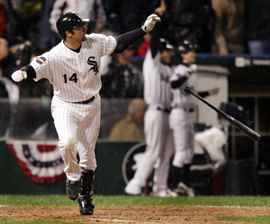 The heartbreak of it all is knowing and seeing how it was all so fleeting, so easy yet so difficult. It's easy to pick Dustin Hermanson, Neal Cotts and Cliff Politte off the scrap heap but impossible to turn them into the greatest relief corps in the American League. Any schmuck can stick with the underperforming third baseman with the suspect bat and disintegrating back, but no one can turn that same third baseman into one of the greatest postseason performances on record. Downgrading from Carlos Lee to Scott Podsednik was nothing, until having Scott Podsednik very quickly turned out to mean everything.
Monday, April 4; Saturday, June 18; Monday, September 19; Sunday, September 25; Tuesday, October 4; Wednesday, October 5; Friday, October 7; Sunday, October 16; Wednesday, October 26. I was there for most of those, vividly recall where I was for the others. You probably were and you probably do, too. And with time, those things go from recollection to distant memories.
This, I now see, is what fans of those other teams never talk about. Not the euphoria of watching your team rise to the top, but the sting of watching that feeling fade away. After the first game of that World Series, a friend of mine turned to me and said "You do realize this is it, don't you?"
No, not is: that was it. Yes, it's just a game and yes, we're just people talking about how awesome that was, but doesn't that automatically prove it all means at least something? I'm writing this, and a few hundred people are going to read it and (hopefully) understand and say "Me too. I remember that." That can be stupid, that can be vapid and hollow, but that cannot be meaningless.
So what do we do? We talk about it. We write about it. And we look at pictures.
Even the ones we hate.