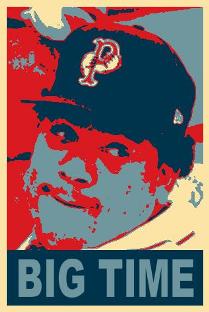 In the wake of the Sox welcoming back our old friend Bartolo Colon, and in light of Sox GM Kenny Williams calling out those pesky "bloggers," allow us to present the 35th Street Plan for Rebuilding:
Sign free agent RHP Jon Garland
Re-sign free agent RHP Esteban Loaiza
Trade a low-ceiling prospect to the Cubs for Neal the Meal
Send a AAA prospect and cash to Kansas City for Miguel Olivo
Trade Brian Anderson and Jerry Owens to San Francisco for CF Aaron Rowand
Trade Jermaine Dye and a pitching prospect to Detroit for RF Magglio Ordonez
With the band back fully reunited to its original and most glorious incarnation, let the Good Guys charge forward avenge the September That Dare Not Speak Its Name.
In all seriousness, the Colon signing gives the Sox someone who can hopefully not get hurt until Jose Contreras gets back and maybe teaching the kids a things or two while they play the part of mop-up duty and spot starter. There's a chance Colon will pitch horribly, but everyone already kind of assumes he will; really, the worst thing that happens is that Colon turns out to be exactly as old, bad, overweight and hurt as everyone expects him to be. Things can only improve from here.
How do you spell success? L-O-W R-I-S-K, H-I-G-H R-E-W-A-R-D. Good move, Mr. Williams. Good move, indeed.