If you ask him, Josh Fields will tell you the comparisons to his predecessor don't bother him, and for all intents and purposes that's believable. Not merely different players, either – even the most casual observer could argue the two are different types of players entirely.
But to assuage young Fields' fears, let us compare and contrast them and let the world see once and for all that a new day has dawned across the third base line at Comiskey Park:
CREDE: Fifth round pick, 1996
FIELDS: First round pick, 2004
CONCLUSION: Josh Fields brings greater expectations than the man he replaces, but also greater promise – which ultimately doesn't say much. Crede, while moderately anticipated, was really just another dude; Fields was chosen ahead of Huston Street, reigning MVP Dustin Pedroia and alleged superstud Jeff Marquez.
ADVANTAGE: Fields.
CREDE: Won a Silver Slugger
FIELDS: Has a real chance of doing the same with Alex Rodriguez missing substantial time.
CONCLUSION: Their subjective nature renders Silver Sluggers about as meaningless as Gold Gloves (a category where Crede was robbed at least once), but it still sounds cool.
ADVANTAGE: Crede, for now.
CREDE: Loved by the ladies.
FIELDS: Viewed indifferently by the ladies.
CONCLUSION: Fields' presence and likely slower-selling jersey T's reduces at least one Sox blogger's chance of crossing paths with Sox-apparel-clad girls and women.
ADVANTAGE: Crede. Jerk.
CREDE: Perpetual highlight reel in the 2005 playoffs.
FIELDS: Had no chance to shine in the 2007 playoffs as the team around him lost 90 games, no thanks to one Mr. Joe Crede's injuries stemming from his third base acrobatics.
CONCLUSION: Way to destroy yourself to sabotage the kid's career, Joe.
ADVANTAGE: That spiteful trickster Crede.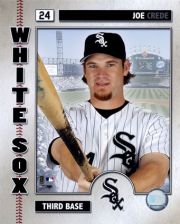 CREDE: First career home run off of James "Shell-o-matic 3000" Baldwin, formerly the nominal ace of the late-90s White Sox' supposed pitching staff.
FIELDS: First career home run off of John Grabow, star-reliever-by-default of Team USA in the 2009 World Baseball Classic.
CONCLUSION: Both are funny, yet both are kind of sad.
ADVANTAGE: Neither.
CREDE: Twenty-four home runs in 111 games.
FIELDS: Twenty-four home runs in 181 games.
CONCLUSION: Josh Fields is no less than 163% as mighty as Joe Crede.
ADVANTAGE: Fields. Big time.
And sure, there are all kinds of other player composition factors to look at. Fields' knees versus Crede's back; Crede's glove versus Fields' lumber; Crede's hilariously even splits against righties and lefties versus Fields' maddening inability against lefties and relentless brutalization of righties.
In the end, really, all it comes down to is this: Joe Crede eventually became a pretty good player. Josh Fields is already a pretty good player. That is not a bad starting point, and certainly nothing to be ashamed of, either.