[Editor's Note: With the regular season just a week away, we asked some friends and frenemies of the 35th Street Review to weigh in with what they see from their corner of the baseball world. If you would like to contribute a blurb or two, drop a line to editor@sox35th.com.
In lieu of bringing in regular bloggers or contributors to discuss the pride of the Sixth City, we instead put the call out to the last bastion of progressive sportswriting and thought-provoking debate. Ladies and gentlemen, we present to you the good people of Craigslist Cleveland:
Contributions Needed For White Sox Blog
Reply to: gig-sz4jx-1100666453@craigslist.org
Date: 2009-03-24, 11:15AM CDT
A moderately popular Chicago-based White Sox blog is looking for a few contributors to its inaugural preview roundup. Will Cliff Lee repeat? Will Grady end the season in another team's uniform? Should the White Sox go do something creative with their bats? Is the Cuyahoga still on fire? Let us know.
Location: Chicago
it's NOT ok to contact this poster with services or other commercial interests
Compensation: no pay
Enjoy.]
Sox fans are funny. I like that about you guys. Not so much your shitty stadium. Or your shitty team.
——
Of course Grady Sizemore will not be traded. Yankees, Red Sox, Dodgers, Cubs fans et cetera probably want to believe their teams can just cherry pick stars from wherever they like but that's not going to happen here. We love Grady and he loves playing here. I know you're tired of him beating the crap out of your Sox. Sorry. You'll just have to learn to live with it.
——
I know you want to think you guys will repeat, but The Tribe had the best second half of anyone in 2008 and are poised to dominate again. No doubt. We'll miss C.Lee when he leaves, but Mark Shapiro is a smart enough General Manager to get some great talent in return for him.
——
GO TO HELL
——
You guys are pretty good this year. If Josh Fields is healthy and if Paul Konerko returns to form you might have the best offense in the league. I see us competing (and you, too), but I think the Minnesota Twins will win it.
——
You know what you can do with your Sox blog? Forget it, I bet you'd rather Pierzynski did it to you instead.
——
Don't be surprised to see us as buyers at the deadline. Many teams will be dumping talent to reduce payroll early, and it's not impossible for us to pick up the rent-a-players we need to put us over the top. The A.L. Central is really up for grabs between us, you, and the Twins, and Shapiro knows if he builds a winner, we'll fill the stadium.
——
I think the X-Factor will be Travis Hafner. Pronk has been not himself for a while, and the team has really suffered for it. Mark De Rosa was a good pickup, and can be plugged in wherever someone struggles on the field. I actually have a lot of confidence in our pitchers, and if Kerry Wood can keep up his good performance the bullpen problems are finally put to rest. Overall, I like our chances not just in the division but into the playoffs, too.
——
You might try coming to Cleveland before ripping on it, although I wouldn't expect someone a White Sox fan to be one for getting out in the world. All the 40's and Phillies Blunts you need are right there in the 'hood.
——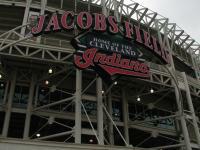 I don't like to admit it, but I actually got into a fight with a guy outside U.S. Cellular Field a few years ago when it was still called Comiskey Park II. I think this was 2002, maybe 2003. Like literally in an actual fight, with punches and everything, right there in the parking lot. People around us were cheering, screaming, people in Indians and White Sox gear side-by-side saluting our little rumble. I ended up with a broken nose and I think he was bleeding from the eye.
And this was half an hour before game time!
My buddies and I still went in to the game and the thing was NOBODY BLINKED TWICE at my blood-covered clothes and face. No one asked if I was okay or needed help, and the beer people didn't hesitate to serve us even more and as my face kept swelling even more. I imagine it was quite the image. We went to that bar under the bleachers after the game and some guy in a Robin Ventura jersey came up to us and said he saw me in that fight in the parking lot.
One of my buddies asked, "How come no one broke it up?"
The guy just kind of shrugged. "What were we gonna do? Besides, it was kind of cool to see."
So then I learned it firsthand. You guys are crazy, actual psychotic savages. I don't know what that has to do with the 2009 season, but that's what I think of when someone asks me about the Chicago White Sox.
——
HEY DID YOU GET MY LAST EMAIL? I'LL RESEND IT: GO TO HELL. SOX SUCK.